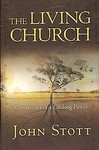 I have a dream of a church which is an expectant church—whose members can never settle down in material affluence or comfort, because they remember that they are strangers and pilgrims on earth, which is all the more faithful and active because it is waiting and looking for its Lord to return, which keeps the flame of the Christian hope burning brightly in a dark, despairing world, which on the day of Christ will not shrink from him in shame, but rise up joyfully to greet him. I have a dream of an expectant church.
I have a dream of a church which is a serving church—which has seen Christ as the Servant and has heard his call to be a servant too, which is delivered from self-interest, turned inside out, and giving itself selflessly to the service of others, whose members obey Christ's command to live in the world, to permeate secular society, to be the salt of the earth and the light of the world, whose people share the good news of Jesus simply, naturally and enthusiastically with their friends, which is alert to the changing needs of society, sensitive and flexible enough to keep adapting its program to serve more usefully, which has a global vision and is constantly challenging its young people to give their lives in service, and constantly sending its people out to serve. I have a dream of a serving church.
What's your dream for First Presbyterian Church?
From The Living Church by John Stott (2007)